PROJECT SUMMARY
Virtual Forests

The Covid-19 pandemic is pushing European society to transformative changes in technologic, economical and social dimensions. Information and Communication Technologies (ICTs) have been crucial for Higher Education Institutions, teachers and learners during the first covid19 wave. However, the forest sector is generally considered as late adopters in new ICTs due to several reasons, including that the economic profitability of the sector is very low and online connectivity in the forests is poor. Both lead to a situation where the incentives for the actors (learners, teachers, ICT services providers...) to develop ICT adapted services for the sector are low. However, the role of forest ecosystems and their management for green development is crucial.
By fostering forest education, we are fostering different important objectives of the European Union

Enhancing online, distance and blended learning in the forest sector
Promoting a rapid socioeconomic recovery with special emphasis on a more resilient rural job market by introducing cutting-edge technology in forest education and, in the long-term
Facilitating the transformation of the EU into a fair and prosperous society with a modern, resource-efficient and competitive economy.
The specific project objectives are to strengthen cooperation and networking between partners and other relevant organizations and stakeholders, Promote the development, testing, and implementation of innovative open educational resources and learning practices, Support education and training of professionals at different levels and career development stages to promote equity, diversity, and inclusion in learning, and increase the international visibility and reputation of participating HEIs while simultaneously expanding international student access to open educational resources in a sector under-represented among online studies.
#virtualForests #education #outputs #project
One more Virtual Forests multiplier event will take place this week in Eberswalde, Germany.

This multiplying event will bring students and professionals closer to the possibilities offered by virtual visits to forests in marteloscopes and 3D maps of stands both in forestry and in forestry education itself.

The Eberswalde University for Sustainable Development will host this VirtualForests project multiplier event, which will be an introduction to forest stand mensuration based on remote sensing technologies, 3D stand virtualization and growth simulation, and related analytical pipelines.

The localtion will be: Eberswalde University for Sustainable Development (HNEE) – Forest Campus.
Alfred-Möller- Str. 1, 16225 Eberswalde, Germany; Building 11 Rm. 11.001

The event can be followed live at: Live stream

Guest Speakers:

Ruben Saornil Minguez from University of Valladolid, Spain
Prof. Vu Van Manh from Vietnam National University- Uni. of Science Hanoi
Prof. Dr. Jan-Peter Mund & Dr. Kevin Beiler from HNEE, & others

A workshop on IoT and Sustainable Forest Management in the Erasmus+ Project "Virtual Forests" took place at National School of Agricultural Engineering, Bordeaux from 24th till 26th May 2023.

The National School of Agricultural Engineering, Bordeaux, hosted a three-day workshop as part of the Erasmus+ funded project "Virtual Forests." The workshop, titled "C2: Short-term joint staff training events [learning, teaching, and training activities]," aimed to explore the growing influence of the Internet of Things (IoT) in forestry and natural resources management.

Under the framework of the "Virtual Forests" project, the workshop provided an invaluable opportunity to delve into the application and implications of IoT technology in the field of sustainable forest and natural resources management. By contextualizing the "digital revolution," the project aims to develop educational materials that empower students and professionals worldwide to acquire applied technology competencies necessary for effective and sustainable management of forests.

"We are delighted to be at the National School of Agricultural Engineering, Bordeaux, for this engaging workshop," said Francisco Gallego Ciprés, CESEFOR representative, for the "Virtual Forests" project. "The impact of IoT on forestry and natural resources management could be immense and far-reaching, and our goal is to equip individuals with the knowledge and skills to leverage this technology for sustainable practices."

The workshop was organized in collaboration with the "Institut Européen de la Forêt Cultivée, France," who warmly welcomed participants and ensured the success of the event, making it an unforgettable experience for all involved.

For more information about the "Virtual Forests" project and to stay updated on its progress, please visit https://virtualforests.eu/ or contact ruben.saornil@uva.es .

#erasmus #VirtualForests #Erasmus+ #Erasmusplus #EUErasmusPlus #sepiegob #iuFOR #FCesefor #UVaPalencia #ETSIIAAPalencia #IEFCPlantForest #APT_Nancy #hneeberswalde #AgroParisTech #training #digital #event #learning #engineering #project #management #collaboration #sustainable #internetofthings #experience #opportunity #teaching

The VirtualForests project is coming into its latest stage. These days is taking place the Multiplier Event "E3: International seminar on Forest Virtualization", organized by Vietnam National University-Hanoi University of Science (VNU-HUS), at Forest Inventory and Planning Institute (FIPI).

The opening of the event included the participation of the Spanish Embassy in Vietnam. (Mr. Oriol Solà Pardell), FAO Vietnam (Mr. Pilato Giovanni) 

Check the Multiplier events section at this website to learn more about this activity.

Good job done!
CONTACT
Contact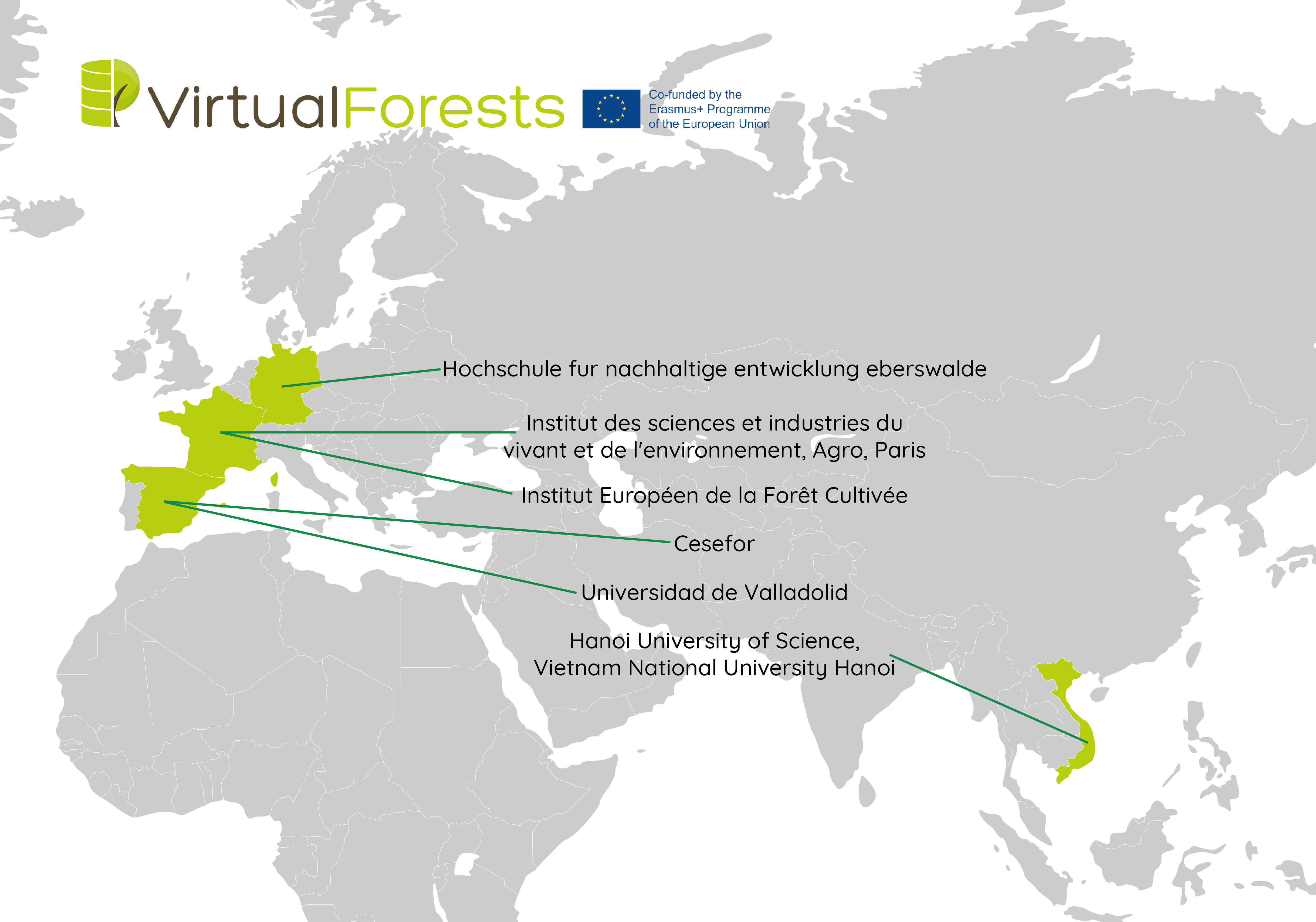 Email

info@virtualforests.eu